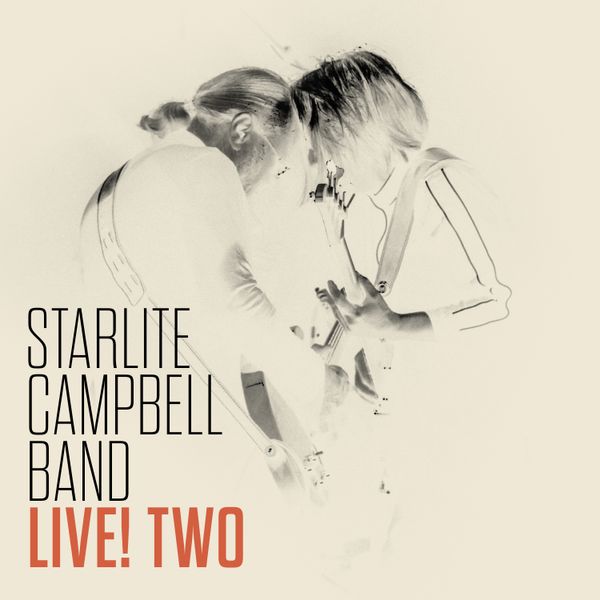 Award-winners Starlite Campbell Band Starlite release their exciting fourth album 'Starlite Campbell Band - Live! 2'  
Flying in the face of disposable music and keeping the roots of rock music alive, award-winning Starlite Campbell Band release their exciting fourth album 'Starlite Campbell Band Live! 2' on October 7th, 2022.   
Husband and wife Suzy Starlite and Simon Campbell are passionate about the music as well as each other and have been on a thrilling roller-coaster musical ride following the worldwide success of their first two albums 'Blueberry Pie' and 'The Language of Curiosity'.  
With their high energy, virtuoso performances, no two gigs are the same with their thunderous groove-ridden rhythm section, mighty tone-filled riffs, strong melodies and poetic lyrics complimented by unexpected, exciting improvisational free-form jamming.   
Caring deeply about giving audiences a great time at their live concerts and creating beautifully recorded music, they wanted to capture the sound and spirit of those special concerts for fans of Starlite Campbell Band.   
Recorded over a series of dates in the UK at The Met, Bury and The Grange Theatre, Oldham, their new live album features Steve Gibson on drums (The Buzzcocks, Jack Bruce) Jonny Henderson (Matt Schofield, Kirk Fletcher) and Christian Madden (the Liam Gallagher band) on Hammond organ and Wurlitzer electric piano.  
'Starlite Campbell Band Live! 2' features all the band's original songs from their catalogue plus the addition of two classic songs; the dramatic opening riff from Henry Mancini's 'Peter Gunn' melting into Johnny Kid & The Pirates' iconic 'Shakin' All Over'.  
An exciting addition to your record collection 'Starlite Campbell Band Live! 2' is released today, October 7th, 2022 and is available to stream and download, direct from the band's online shop. 
In The Press: 
"They feature one of the best session guitarists and producer/arrangers from the last forty years – Simon Campbell, a superb bass-player in Suzy Starlite, drummer Steve Gibson and the keyboards on here feature Jonny Henderson & Christian Madden on different tracks, none of them exactly unknowns." Andy Snipper, Music News, UK  
"A dazzling performance...The English duo delivers the sequel with this "Live! 2 "  just as good and intoxicating. The Starlite Campbell Band is truly a live band and it still transpires on these new releases... Authentic, Suzy Starlite and her husband Simon Campbell let their feelings speak on a flawless and virtuoso technique." Rock 'n' Force, France  
"It's great fun, with musical intelligence and lightness of touch to put some bigger name bands to shame." Iain Cameron, Blues Enthused, UK