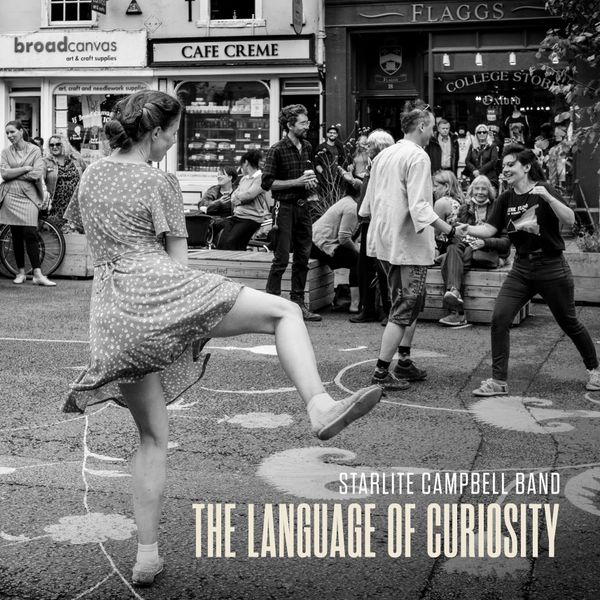 European & British award nominees the Starlite Campbell Band husband and wife duo Suzy Starlite and Simon Campbell self-released their highly acclaimed second album 'The Language of Curiosity' on November 5th, 2021 on their independent label Supertone Records.
Their combined songwriting skills along with a uniquely British rock & blues sound, make Starlite and Campbell, who fell in love on stage and married following a whirlwind musical romance, one hot ticket! 
"Here is no sophomore slump with The Language of Curiosity. Starlite Campbell Band have stepped up their game, and their sound, taking their British blues/rock to a whole other level... A modern-day sonic boom!" | JD Nash, Editor, American Blues Scene
There aren't many artists out there who write, play, record, engineer and produce their own music themselves but that is exactly what this passionate couple do. As lovers of vinyl and all things analog, producer Simon Campbell's production and recording techniques have a quality that was learned first-hand whilst working in recording studios in the early 70's and he has never looked back; it's not retro - it's always been this way!
With their fresh original British rock and British blues, the husband and wife duo have been on an exciting roller-coaster of a musical ride following the release of their debut album 'Blueberry Pie' to rave reviews worldwide and a prestigious nomination for Best Album in the European Blues Awards.
"Blueberry Pie is a great album" | Cerys Matthews, BBC Radio 2 & 6 Music
With extensive international radio play including BBC Radio 2, charting top 10 in the UK, Australia, The Netherlands, American Blues Charts plus receiving over 50 four and five-star reviews worldwide, the band have played all over the world from headlining a festival in their Australian debut to main stage performances at The Great British Rock & Blues Festival in the UK.
The band's exciting and highly acclaimed second album 'The Language of Curiosity'  was released on November 5th, 2021 supported by festival performances at the Carlisle Blues Rock Festival, UK, Bluesroute Helmond, NL and an epic six-week headline tour throughout the UK and Europe.
The band's touring line-up includes their go-to drummer Steve Gibson (Jack Bruce/The Buzzcocks) and Christian Madden on Hammond organ, Wurly and Piano, usually seen touring as part of Liam Gallagher's band sat behind the Rock 'n' Roll banner and Jonny Henderson (Matt Schofield/Kirk Fletcher).
The past four single releases have garnered fantastic feedback including BBC Radio 2 amongst other national and international radio and festival enquiries.
Dates to be announced include the headline slot on the main stage (after Walter Trout) on Saturday 15th January 2022 at The Great British Rock & Blues Festival, UK and BBBF Blues, Lisbon, Portugal, 12th February 2022 plus national radio interviews and live sessions including Talk Radio, UK.
"Oh My, Oh My! What a cracker this one is. Then it hit me. This is what Cream sounded like before they became super-stars" | Ian K. McKenzie, Editor - Blues in the South 
"A clean sound and an enthusiastic approach that gives their second album 'The Language of Curiosity' an immediate appeal!" Classic Rock Magazine, UK
"An absolute joy and a genuine smile out loud album! '"Think about your favourite albums and how they grew on you, grew WITH you over time. This is one of those albums!" Beastie, Presenter Hard Rock Hell radio, UK
The album is available to buy direct from the band's online shop or from your local record shop.
Thank you for directly supporting independently produced, hand-made music - you really do make a difference! 
Watch the video for their new single release 'Take Time To Grow Old' from 'The Language of Curiosity'