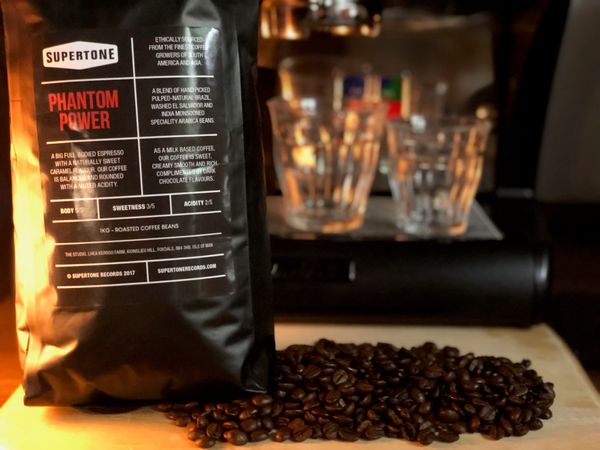 As well as being passionate about music, Simon and Suzy at Supertone are also turned on by great quality artisan food and drink which includes their daily ritual of imbibing fantastic coffee. 
For some time now they have been in search of a great tasting, quality artisan coffee and are stoked to introduce 'Phantom Power'- Supertone's own blend of specialist coffee, perfect to give your day the creative coffee kick it needs. 
It is a blend of hand-picked pulped-natural Brazil, washed El Salvador and India monsooned speciality Arabica beans and ethically sourced from the finest coffee growers of South America and Asia.
It is big and a full-bodied espresso with a naturally sweet caramel flavour, balanced and rounded with a muted acidity.
'Phantom Power' is sweet, creamy, smooth and rich, complemented by dark chocolate flavours.
£20 per 1kg bag (beans or ground) plus postage.
Orders over £60.00 have free delivery within the UK mainland.
Everyone needs 'Phantom Power' - the coffee kick for creatives! Order your 'Phantom Power' today!