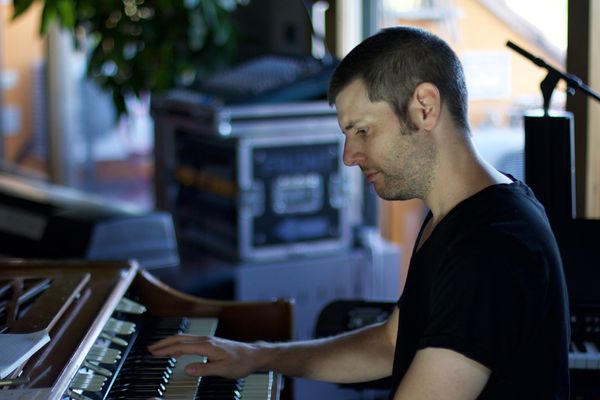 Double British Blues Award winner Jonny Henderson flew out to Supertone's Studio in August to work with producer Simon Campbell on the recording of the Starlite Campbell Band new blues album 'Blueberry Pie.'
Jonny is steeped in the Blues. He has been voted Keyboard Player of the Year in both the 2010 and 2011 British Blues Awards and has toured with blues guitarist Matt Schofield, the legendary Robben Ford and singer Ian Siegal.
This, along with his work in the studio with Matt, Ian and Otis Rush made him the perfect choice to record Hammond Organ and Wurlitzer electric piano parts on the new record.
Joining him on drums for the album is Steve Gibson, one of the tightest and hardest working drummers out there and again very much steeped in the blues: he plays one of the best shuffles in the business!
He was a member of two bands signed to major labels and has played with the Icicle Works, Buzzcocks, Maggie Bell, Larry Garner, Madeleine Bell, Van Morrison, Larry Garner, Chris Farlowe and Jack Bruce. He is an endorsee of both Paiste Cymbals and SAKAE Drums.
It was a fantastic experience working with such talented musicians.
To whet your appetite, 'Blueberry Pie' is best described as a light and succulent crust of electric and acoustic guitars, long and short-scale basses, vintage amplifiers, Hammond organ, Wurlitzer electric piano, harmonica, drums and natural voices.
The filling is made of contemporary stories of loss, love, despair and most importantly, lots of hope... drenched in a sweet and sour sauce of 1960's traditional British Blues.
'Blueberry Pie' by the Starlite Campbell Band will be released by Supertone Records on 1st February, 2017 and available to pre-order on CD and vinyl from 10th November 2016.