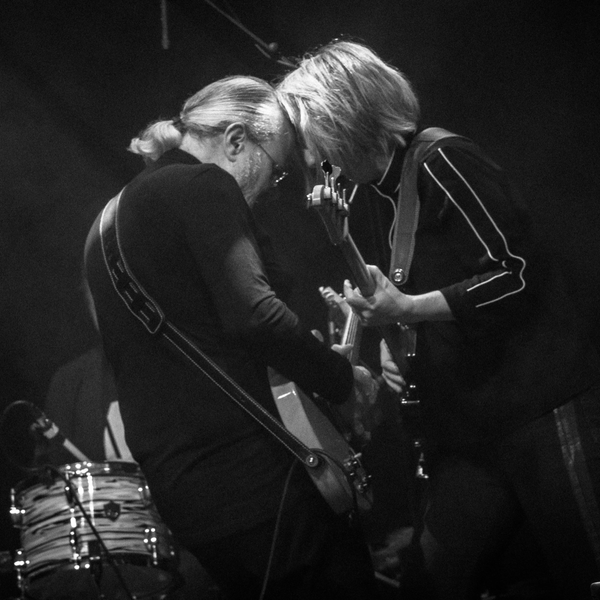 European & British blues award nominees the Starlite Campbell Band will be playing at Flirting with the Blues Festival in The Netherlands as part of their European tour dates on Saturday 14th December, 2019.
The Starlite Campbell Band are husband and wife duo Simon Campbell and Suzy Starlite working with some of the world's finest musicians.
Joining them on the night will be shuffle master Steve Gibson (UK) on drums and Dutch maestro Govert van der Kolm (King of the World) on Hammond organ and Wurlitzer electric piano.
The band will feature songs from their new album 'The Language of Curiosity' set for release in March 2020 plus tracks from their European Blues awards nominated album 'Blueberry Pie'.
The indoor festival held in Amersfoort is now in it's fifth year and boasts a stellar line-up of artists including Matt Schofield, Coco Montoya Band, Lief de Leeuw Band, Thorbjørn Risager & The Black Tornado, Scott Sharrard, Kid Ramos, Paul Nelson and Stef Paglia.
The Starlite Campbell Band is steeped in British blues – think early Led Zeppelin, The Faces and Peter Green's Fleetwood Mac. With contemporary original songs inspired by real life and real people, they have a sound and vibe reminiscent of the mid 60's to early 70's.

Truly independent artists, Starlite & Campbell have been exciting audiences throughout the world including headline performances at the Wangaratta festival of jazz and blues in Australia and the legendary Half Moon in Putney, London.

The band will also be performing on the main stage at The Great British Blues & Rock Festival (UK) in January 2020.

Signed to the legendary Bepop agency (Netherlands) for all Benelux festival dates, late 2019 / 2020 sees the band working in Europe and touring internationally including headline performances at The Met, UK, Backstage at the Green, Scotland, Redcar R&B club,UK, The Greystones, UK, more festivals (to be announced), Club am Donnerstag, Hamburg (Germany) and the world famous Half Moon in Putney, London, where the stage has been graced by iconic bands from The Rolling Stones, Van Morrison, Elvis Costello, Kate Bush to The Who.

The Starlite Campbell Band's debut album 'Blueberry Pie' received rave reviews worldwide and a prestigious nomination for Best Album in the European Blues Awards.

With extensive international radio play including BBC Radio 2, charting top 10 in the UK, Australia, The Netherlands and American Blues Charts and over 40 four and five star reviews worldwide, the Starlite Campbell Band leave an indelible impression on audiences of all ages and musical backgrounds.

"Just as the Rolling Stones are making huge waves with their 30th studio release, Blue & Lonesome, along come a couple of seasoned musicians who bring back the sound of early UK blues, to near perfection." | JD Nash - American Blues Scene, USA

"Unquestionably Blueberry Pie is a stunning debut" | 5* - Morgan Hogarth, Rock n Reel Magazine

The art of the song is everything and Starlite and Campbell fly in the face of disposable music; writing, recording, playing and producing their work and then releasing on their independent label Supertone Records. To make this possible, they put on special fund-raiser concerts and do all their own promotion and social media: in-house = in their own house.

As true examples of the DIY musician creating hand-made music, Suzy and Simon know that is the people they meet along the road that makes everything worthwhile; where the music brings people together in a festival field, a small club or your living room to celebrate life and each other.

"Blueberry Pie is a great album" | Cerys Matthews, BBC Radio 2 & 6 Music

"The Starlite Campbell Band did more than rock the blues big top, the musical interplay, communication with the audience and get off your arse dance sounds and styles ensured the blues crowd as well as the band had a fantastic experience on Saturday night. The Starlite Campbell band's debut at Wangaratta was an absolutely overwhelming success indeed!! Frank Davidson, Co-artistic Director, Wangaratta Festival of Jazz & Blues, Australia

"TRUE SPIRIT OF INDEPENDENT BLUES. Great night with the STARLITE CAMPBELL BAND in SW15. So refreshing to catch a high-energy, enthusiastic band with virtuoso players and fresh material." Pete Feenstra, lifetime British blues aAward winning promoter, London.England.

The Starlite Campbell Band: a fresh taste of British Blues – best experienced LIVE!