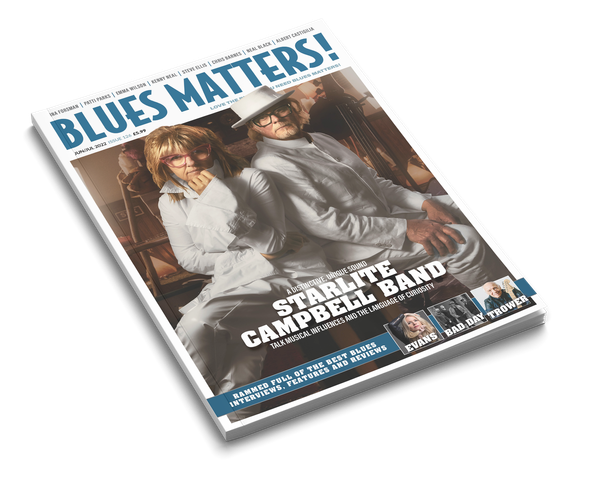 We are celebrating!!
I'm thrilled to bits to share with you the wonderful news that Starlite Campbell Band is featured on the front cover of 'Blues Matters' magazine for June/July 2022. 
It's our first 'shiny photograph cover story' and we worked on a special photoshoot for the feature with the wonderful Paul Husband from Manchester, UK who is renowned for his work with artists and musicians including Guy Garvey, The Rolling Stones, Idles, Morrissey, Ian Brown and Low. 
Blues Matters is the UK's largest printed blues magazine and this special 'collectors' edition is the first in the new A4 size. 
The magazine also includes an in-depth four-page interview with us chatting about musical influences, motorcycles, life and work with Starlite Campbell Band plus a fantastic review of our second album 'The Language of Curiosity'. 
It's jam-packed full of juicy music news and to top it all off, the glossy back page features a full-size poster advertising the release of 'The Language of Curiosity' on delicious, limited edition 180g vinyl.  
We wanted to celebrate with a personal touch for our friends and supporters and have a very limited number of 'signed' copies available to buy direct from our online shop. 
*Just add a note when placing your order for your special message, especially if it's a gift. 
Thanks for being a part of our musical adventure. 
Much love
Starlite xxx