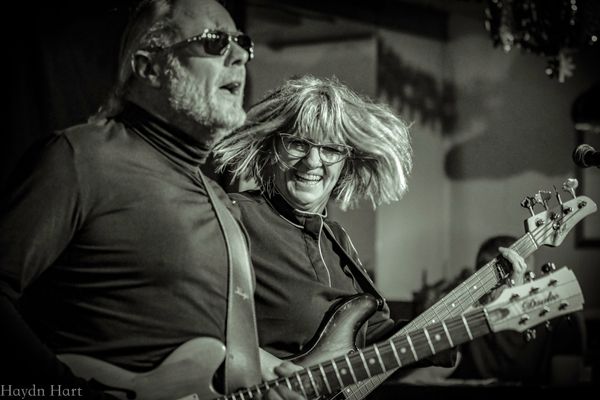 Following European Blues Awards nominees the Starlite Campbell Band's hugely successful Saturday night headline show at Australia's prestigious Wangaratta festival of jazz and blues, the band hit the road for a series of sell out shows on 'The Mince Pie UK Tour' in December to support their international hit album Blueberry Pie.
The band consists of husband and wife duo Suzy Starlite and Simon Campbell who work as a four-piece with some of the world's finest musicians. The Starlite Campbell Band is steeped in British blues - think The Faces, early Led Zeppelin and Peter Green's Fleetwood Mac. With contemporary original songs inspired by real life and real people, they have a sound and vibe reminiscent of the mid 60's to early 70's.
Unquestionably, Blueberry Pie is a stunning debut | 5* Morgan Hogarth, Rock n Reel Magazine
The Mince Pie Tour kicked off on with a rapturous full-house reception at The Tuesday Music Night Club in Couldson, moving on to The Iron Road, Pershore, Bannerman's in Edinburgh, Derby Hall at The Met where the band recorded a live video, Blues at the Bay Cleveland and finishing off in style with a massive Christmas party at Saltburn Blues Club.
Iain Cameron of Blues Enthused wrote:
This was the real deal, scintillating stuff… Simon Campbell and Suzy Starlite are mad for the music, and mad for each other – and their enthusiasm is infectious.
And then – and then, folks – they close out with 'Walkin' Out The Door', the opening track from Blueberry Pie. And this slice of mid-Sixties style soulful blues, with some wah-wah atmospherics, gradually morphs into Led Feckin' Zeppelin, the riff tipping the hat to the likes of 'How Many More Times' while Starlite channels John Paul Jones with an increasingly mountainous bass line. And Campbell goes into mad axeman mode, conjuring up a howling guitar interlude with the aid of an old-fashioned echoplex box of tricks – real analogue tape, boys and girls – ahead of an echo-laden solo. Greta Van Fleet eat your juvenile hearts out...
The band are touring throughout 2019 with two shows confirmed in March at the legendary Half Moon Putney and the Greystones, Sheffield plus special shows at Darlington Blues Club in May and The Met Bury in November.
Current tour dates are displayed below!